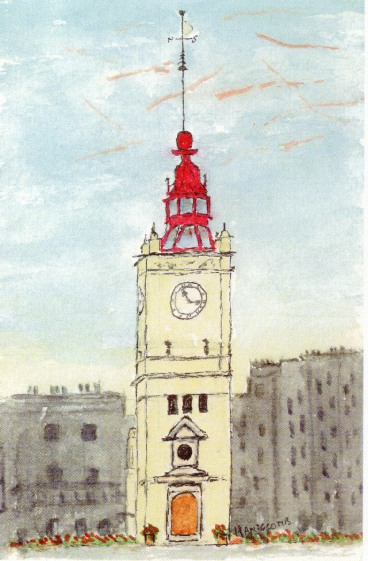 Margate Clock Tower and Time Ball

Margate Clock Tower was designed to commemorate Queen Victoria's Golden Jubilee in 1887 although, due to planning and design delays, it was actually officially opened on 24th May 1889, which was the Queen's 70th birthday.

The Clock Tower incorporates a time ball, a large copper ball which is raised to the top of the mast at the pinnacle of the tower and is dropped at a precise time. This allows ships at sea and any other onlookers to set their clocks accurately; especially useful in the days before time signals were sent by radio.

Margate's time ball has not worked for many years and Margate Civic Society has carried out a fund-raising project to have the time ball restored to full working order. The Society has worked closely with Thanet District Council, the owners of the Clock Tower, and has been advised by Mike Bundock, a local historian and expert on clocks. Our plan was to have the time ball working again and officially launched on 24th May 2014, as a belated commemoration of Queen Elizabeth II's Diamond Jubilee, just as the Clock Tower was originally a belated celebration of Queen Victoria's Golden Jubilee.

We were able to commission The Cumbria Clock Company to carry out the work. This company is responsible for the maintenance of many public clocks, including Hampton Court Palace and the Palace of Westminster.

We are delighted that the Time Ball dropped for the first time in over 90 years on Saturday 24th May 2014 at 1pm, as planned, and will drop thereafter at 1pm precisely each day.

Mike Bundock has written a book about the history of Margate Clock Tower, which Margate Civic Society has published. The cost is £10 per copy. Mike has not charged a fee for his work and all proceeds after publication costs will be donated to the time ball restoration project. The book is available from Michael's Bookshop, Ramsgate.

The idea to have the time ball restored came from Arnold Schwartzman OBE RDI, Oscar-winning film director and great supporter of Margate where he spent some of his childhood years. Mr Schwartzman kindly agreed to be Patron of the time ball restoration project. The original Margate Civic Society Newsletter containing Mr Schwartzman's article can be read by clicking here - the article appears on pages 6&7.